GainsWave Erectile Dysfunction Treatment in Kirkland, Wa
As you age, you may find that your body changes. From shifting weight to hair growth and loss, aging can take its toll on your physique. You may also find that these changes are affecting many parts of your life – including your sexual performance.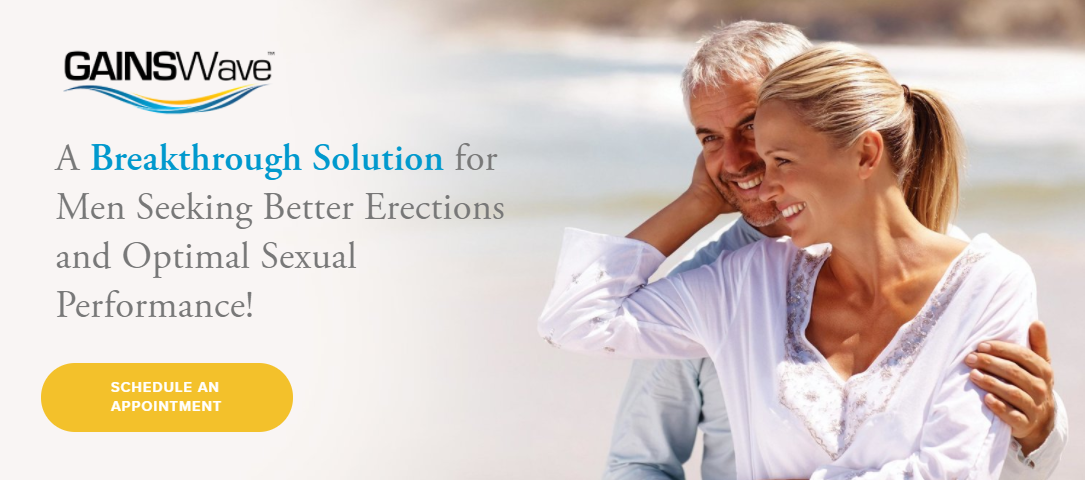 For many men, blood vessels that supply the necessary blood flow for a strong and healthy erectile function begin to shrink or become obstructed as their bodies age. This loss of blood flow can lead to erectile dysfunction. In past decades, this was a permanent problem or one that required invasive procedures or medication. But that doesn't have to be the case any longer: today, men can turn to GAINSWave.
GAINSWave Treatment for Kirkland Men
GAINSWave is an innovative treatment that uses high-frequency waves to treat narrow or blocked blood vessels. It has a fantastic track record of great results. It's noninvasive and FDA-approved, offering men an alternative to medication or surgery. Though this technology is new to the U.S. market, a similar variety has been used with success in Europe for decades.
If you are a man in the Kirkland area suffering from ED, consider a consultation to see if GAINSWave is right for you.

How Does it Work?
In the past, there have been very limited treatment options available for erectile dysfunction. Men who struggled with the issue were faced with two main options: surgery or medication. Even if they opted for one of these, the success rates weren't very promising. They were inconvenient, costly and could leave men with painful and long-lasting side effects.
Thanks to innovations in technology, GAINSWave presents a new and better option. It's unlike any other available treatment for ED. Using high-frequency acoustical waves, GAINSWave clears blocked blood vessels and encourages the growth of new ones. With the renewed blood flow, men who undergo GAINSWave treatment see renewed vitality in their sex life and are able to sustain stronger and longer-lasting erections.
Due to its noninvasive nature and the lack of prescription medications, GAINSWave is an option for men of all ages, even those on other medications. There's no risk of medications reacting or a painful recovery from surgery. As the first noninvasive, FDA-approved treatment for erectile dysfunction in the United States, GAINSWave has captured the attention of doctors everywhere.

How GAINSWave Can Help You?
Because of its innovative technology, GAINSWave can treat all varieties of erectile dysfunction, including rarer and more difficult types like Peyronie's Disease.
GAINSWave will restore your ability to have stronger, durable erections. Whether the issue you are facing is due to restricted blood flow from aging or other causes, or a health problem like Peyronie's Disease, GAINSWave can help. The high-frequency waves will clear out blockages of blood flow and break down scar tissue. GAINSWave can help you take back your love life!
GAINSWave does not require surgical procedures or medication, but is a noninvasive way to solve erectile dysfunction.
Some benefits of GAINSWave include:
Renewed and improved sexual performance
Noninvasive technology and procedure
Increased sensation and pleasure
Long-lasting results
Available to and suitable for all patients (regardless of age)
Simple, in-office procedure
No hospital stay needed
Treats all types of erectile dysfunction
Treats Peyronie's Disease
GAINSWave is strongly recommended as treatment for any Kirkland-area men who are dealing with erectile dysfunction. It's a great way to correct your issues and improve your quality of life. Dr. Amanda Brimhall, the founder and lead physician of Waterfront Wellness, is one of a growing number of GAINSWave physicians in the United States.
Committed To Your Health
Dr. Brimhall has dedicated her life to being a Naturopathic physician, and aims to find noninvasive and healthy options to help you with any health issues you face. She is focused on making sure that your experience with Waterfront Wellness leaves you satisfied and relaxed, and offers a wide variety of health and wellness treatments.
GAINSWave is the latest addition to our many Naturopathic treatments. We are thrilled to offer this option to our patients as a holistic and natural way to correct erectile dysfunction. We hope to help you alleviate your symptoms and get you back to a vibrant and full life.
Contact Dr. Amanda Brimhall
Schedule a 15-minute consult to find out more about whether we're a right fit for you. Dr. Brimhall's office is in Kirkland, but she offers her services to the entire Kirkland, Seattle and Renton areas.
Don't let erectile dysfunction dictate your quality of life any longer! Schedule a consultation with Dr. Amanda Brimhall and consider GAINSWave – it's an easy and painless way to restore your virility and offer you a full life again.
Other Areas we Serve
- Seattle
- Bellevue
- Kirkland
- Redmond
- Sammamish
- Bothell
- Renton
- Issaquah
- North Bend
- Kent
- Auburn
- Mercer Island